While in college, Andrew's music interest changed. Inspired by the neo-traditional country movement of the 1990s, Andrew attempted a new course in music – songwriting. Before this, his roots in music were deep.
Andrew's music interest began in 5th grade. He joined Westside Elementary School's concert band as a trumpet player. Within a few years, his goal was to one day join the University of Georgia Redcoat Band.
Andrew continued playing trumpet through middle school and became drum major of the West Coffee Middle School Band in 7th and 8th grade. During this time, Andrew also picked up interest in percussion. His Uncle Joel mailed his 30-year-old drum set from Orlando, FL to Douglas, GA. Following the addition of 3 cymbals and a few drums heads, Andrew soon developed his percussion skills.
As a drummer, Andrew joined the First Baptist Church youth band as the only middle school member. He served five years until graduating high school. Andrew continued marching band in high school, became drum major of the Coffee High School Marching Band his junior and senior year.
Following one year at ABAC, Andrew transferred to the University of Georgia and finally tried out for the UGA Redcoat Band. 410 total members, 70 of which are trumpets, make up the Redcoats.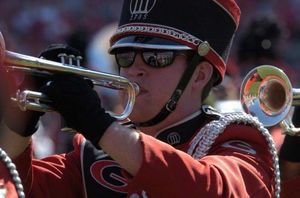 During his three years as a Redcoat, the Georgia Bulldogs won an SEC Championship (2005), Peach Bowl (2006), and Sugar Bowl (2007). A new course of music set in after starting his graduate studies.
What began as a reunion with high school friends to produce a music video, Andrew developed a niche of writing catchy hooks. In 2008, J.R. Charles, Joseph Rawlins, Rhett Lewis, Kevin Davis were some of the many friends to develop music videos with Andrew. In 2009, Andrew then met producer Gary DiBenedetto (Studio D) in Moultrie, GA.
Andrew and Gary discovered mutual interests in music style. What began as an effort to produce material for music videos has evolved in Andrew's first studio album under the label Runaway Cotton Records in 2014.
"I got many clients today who want less steel (guitar). Then comes Andrew who is wanting me to bring it out. He really has a passion for that style."
With the success of A New Tradition in Southern Sound (2014) and 17 music videos, Andrew and Gary quietly went back into the studio. This March, Andrew recorded 9 songs in 13 hours for a new project.
After watching I Saw The Light (2016), a movie based off Colin E. Scott's 'Hank Williams' biography, Andrew garnered an interest in the story-telling aspect of songwriting. The music video for Tennessee (2020) is a song penned by Andrew about Hank himself. The movie inspired the suits in the video Jim Beam Me Up (2019). With five music video singles released since his first record, it was time to finish a second album.
The songs chosen by Andrew represented a storytelling fashion. Some stories were made up from nothing, others were embellished from real-life situations. A few are stories, though, are one hundred percent truth. There was one name that would best represent this project: Storytellin'
Perhaps the best part of Storytellin' is the music behind it. For the second time with Andrew, producer Gary DiBenedetto creates a masterpiece of real and traditional country music. The fiddle is dominate throughout the album. But the pedal steel and chickin' pickin' electric guitar echo perfectly. Andrew's voice fills the voids with a Storytellin' feel.
The latest single and music video, Bobble, released on June 12, 2021 is the first song Andrew did not write himself. Written by his Great Uncle Norman of Seminole County, GA, the song and video tell the story of Uncle Norman painting an alligator red, white and blue. The video was shot on Spring Creek in Seminole County at Uncle Norman's place. Five generations of Sawyers made up the video.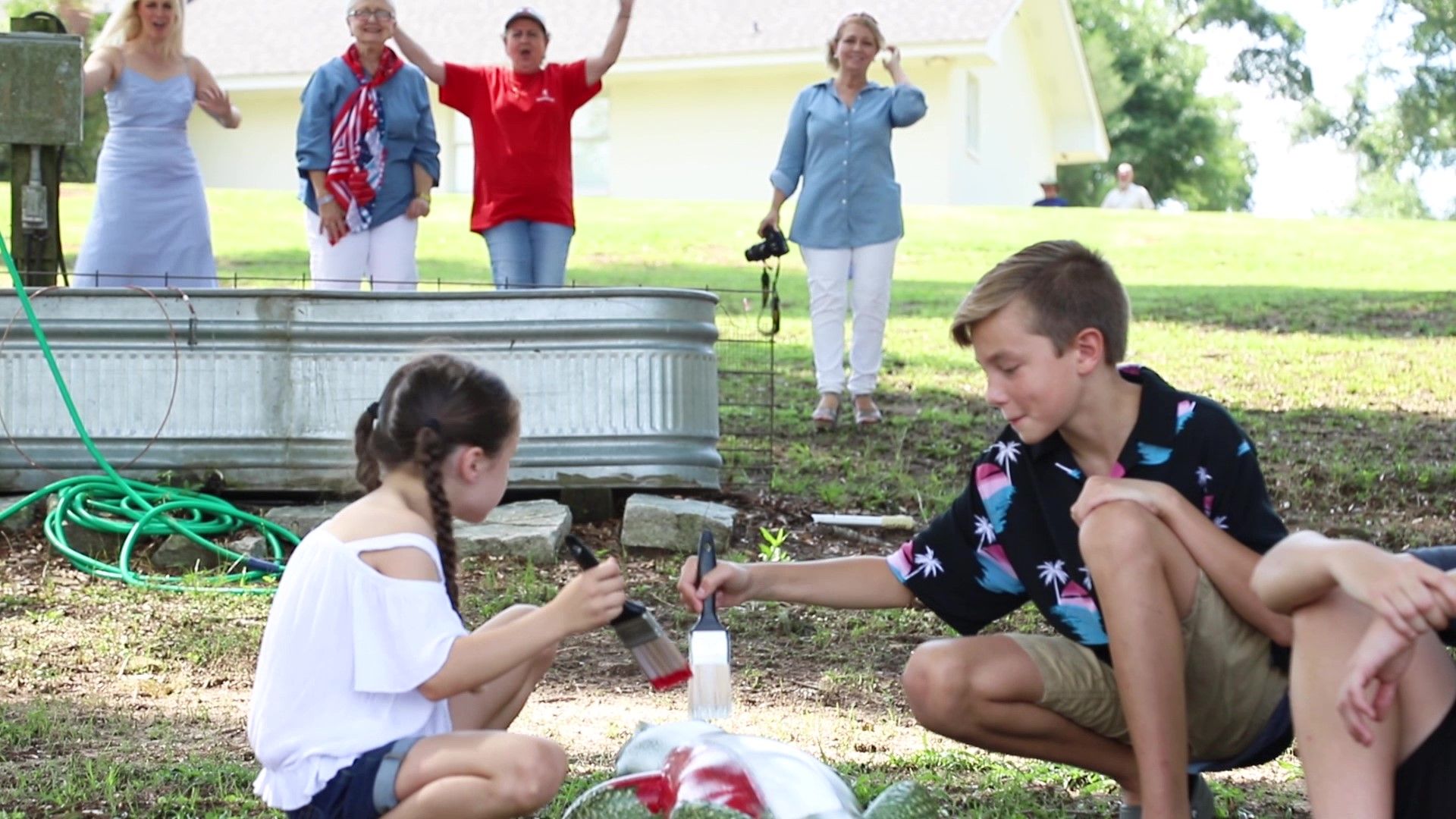 The photo above is a still from Bobble where a scene depicting painting the alligator. From L - R: Deon Tucker, Aunt Saundra Rogers, Melba Hill, Fan Matthews. Below L - R: Lilly Strickland and Matthew Stickland